Prague is rich in attractions and has wonderful eye catching sights to offer to tourists. The historic places in Prague are worth visiting and they are the major reason of tourism in this capital city of Czech Republic. However, there is much more to explore rather than just the historic places. If you are not much into ancient spots, then Dancing House is a great, must visit place for you.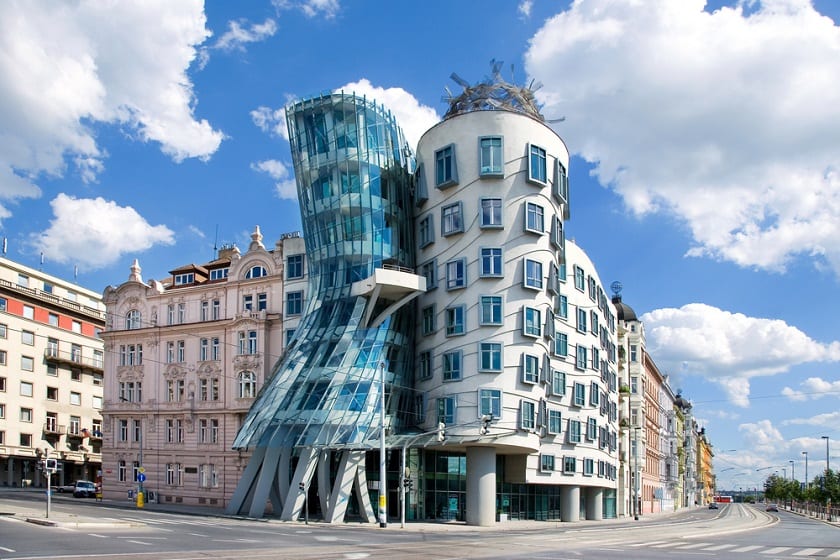 The Dancing House is inspired by two dancers and resembles a couple dancing too. The famous duo of Fred Astaire and Ginger Rogers are the reason behind the creation of this very unique building. This building is also sometimes, referred to, as Fred and Ginger. Being one of the most important landmarks of Prague, this building is visited by hundreds and thousands of tourists every year.
Dancing House is built upon 3000 sq. meters and is now house to a restaurant, different offices, a conference center and an art gallery too. Thus, there is a lot more to the building, than just tis exterior. Although, the exterior is the major reason why tourists love visiting this place but once you go inside, you can view the great art gallery and have food at one of the best restaurants in Prague. And you certainly do not want to miss the top view of the building. At the terrace of the Dancing House, you are able to view a panorama view of Prague which is worth the sight. It is best to visit it during sunset because the view is extremely breathtaking at that time. Also, you can enjoy the scenic beauty of the top view of Prague at night time too, with your partner; it is, without a doubt, very romantic!
Opening Hours and Tickets
You do not need to pay anything for entering the building at all. It is open for everybody from 10 am to 10pm. However, if you want to visit the art gallery, then you will have to take a ticket.
The restaurant opens at 11 am every day and is open till midnight.
The art gallery opens from 10 am to 8 pm. The ticket fare for it is 190 CZK.
The glass bar is open from 10 am till midnight, every day.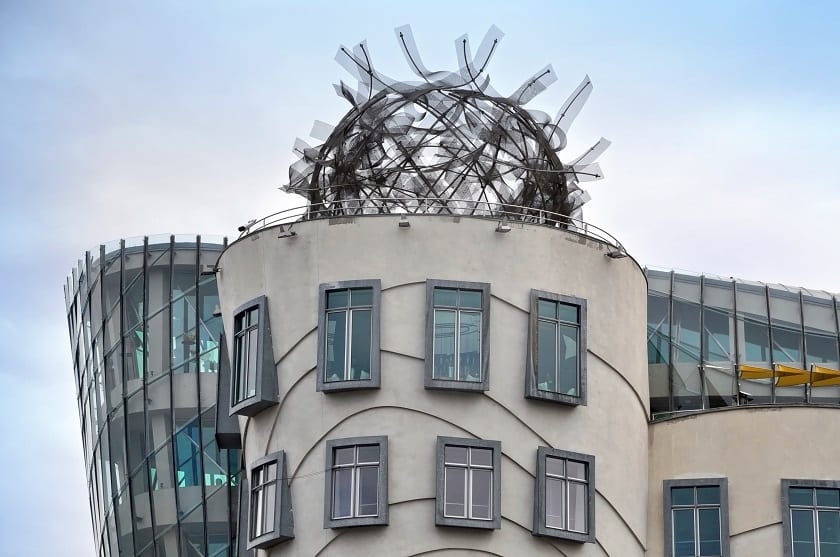 The glass bar is your accessibility to the amazing terrace view. There is no ticket fare for it and you can enjoy the panorama view of the Prague, at any time, within the open hours of glass bar.
Ginger and Fred
The restaurant inside the Dancing House building is obviously named after the dancing couple duo; Ginger and Fred. The restaurant has an amazing blend of international and French dishes which are worth tasting. Also, the interior of the restaurant is extremely classical and has very artsy elements in it. You will definitely want to snap a few photos inside it.
Dancing House Art Gallery
The art gallery has contemporary and Czech art displayed inside it and is a brilliant and "must-visit" place for all the artists. The best thing about this art gallery is that it supports young artists too. If you are looking for further information on it then you can communicate with the administration or management of the gallery for sure.
The Dancing House is a very unique building which has been built in the deconstructivist architectural style and is worth viewing. It has faced a lot of controversies due to its odd style of architect and many times, people thought that it won't survive for long as its surroundings had nothing like it. However, the building is still here, after years and years and is a huge tourism spot for everyone. If you are in Prague then you definitely do not want to miss out on this amazing place.